Reduce maintenance costs
In order to reduce maintenance costs and to improve the availability of technical installations, maintenance programs become more and more predictive (rather than preventive maintenance). Equipment will be not be replaced after a fixed service time but only when required. Therefore it becomes  more important to investigate and to monitor the condition of the equipment. Nooij Themal Inspection Services uses various inspection techniques than will provide the required information regarding the condition of equipment and installations. We are specialized in inspections of refractory containing installations in the steel and the (petro) chemical industry. Chimneys, reformers, incinerators, hot blast stoves, hot blast mains and furnaces are our field of expertice.
We have a sound knowledge of refractory constructions (design, materials, installation, commissioning and operation). Our refractory back ground in combination with modern inspection techniques is appreciated by our customers. We inspect refractory installations in the steel industry and (petro) chemical industry world wide, such as Netherlands, United Kingdom, Germany, Brasil, South Africa, Turkey, Canada, South Korea and Malysia.
We are not limited to carry out inspections only, but on the basis of 30 years experience with refractories, we also can recommend repair work, predict remaining life of an installation and propose alterations and improvements.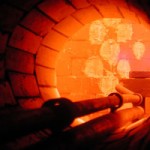 Heating up and cooling down
Nooij TIS has broad experience with cooling down and heating up of large refractory constructions, such as hot blast stoves. We have been involved in more than 60 complete heat up projects.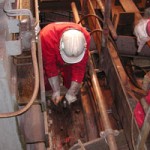 On line injection of refractory mass
Normal refractory constructions will result in a moderate temperature of the steel casing (100-150 °C) A hot spot on the steel casing is normally caused by damage of the refractory lining. Sometimes the back up insulaton layers are deteriorated and hot gasses can flow along the steel casing.