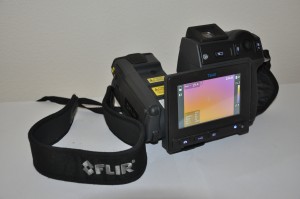 Thermography is an upcoming inspection technique with almost unlimited application possibilities.
Hot spots at the furnace, worn out bearings, hot spots in electrical equipment, tracing floor heating pipes are just a few expamples where infrared inspections proved to be of great value.
Modern infrared cameras can very easily show temperature levels and distributions that the human eye cannot see.
The major advantages of using infrared technique are:
Safe, no contact with the life installation
 Fast, making an infrared image takes just a second
Reliable, temperature readings are very accurate
Infrarood inspectie techniek wordt steeds vaker toegepast voor tal van inspecties.
Hete plekken op een oven, versleten lagers, overgangsweerstanden in een elektrisch circuit, opsporen van vloerverwarming zijn slechts een aantal voorbeelden waarbij infrarood inspectie techniek van grote waarde is gebleken.
Moderne infrarood camera's laten, heel eenvoudig, temperaturen en temperatuurverschillen zien die voor het menselijk oog niet zichtbaar zijn.
De belangrijkste voordelen van infrarood inspecties zijn:
Veilig, geen aanraking met de installatie.
Snel, het maken van een opname duurt slechts seconde.
Betrouwbaar, de temperatuurmetingen zijn bijzonder nauwkeurig.